CANCUN MEXICO-ALL-INCLUSIVE! 5 STAR FAMILY RESORT!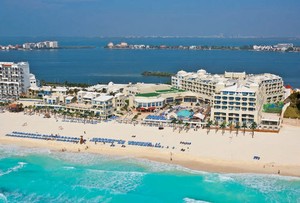 ---
Gran Caribe Cancun 

  5 STAR ALL INCLUSIVE RESORT IN CANCUN

One of the top rated Resorts in Cancun for families!!

NO TIMESHARE PRESENTATION REQUIRED/NO GIMMICKS 

Price for 2 adults and include all fees and resort all inclusive fees. Price quoted above is for high season, other dates will be lower. Please e-mail me your dates and I will let you know, how much discount you will be getting to put it in your offer. Price includes $150 processing fees payed by paypal and the rest is paid directly to the hotel for All inclusive fees.

It's easy, just go to: "http://realresorts.com/Caribe_Real/" Put in the dates you are wanting to go and check the price. The Only Dates that we can not use our Benefits for are as follows:  President day week, Apr/17 to Apr/27, Nov/20 to Nov/27, and Dec/24 to Jan/01.

Winning bidder will pay our $150 fee to our Paypal account before we reserve your vacation dates with Real Club. The balance of the discounted "All-Inclusive rate will be paid directly to the Resort. We will email your "Authorization Letter" from the Resort, and you will pay the Resort directly.

You can take advantage of our Membership Rates at any of the Real Resort Properties, Including the adult only five diamone The Royal.

Example of current All Inclusive rates per adult per night at Gran Caribe Cancun (Children under 6 years old are free):

January: $80

February-April: $95

April-June: $60

Please e-mail me and I can get you rates at other resorts as well.

Here are just a few pictures, but click the links to see more beautiful pictures, or take a virtual tour:

http://realresorts.com/Caribe_Real/Photo_Gallery/

http://realresorts.com/Caribe_Real/Virtual_Tours/

"By listing this auction I verify that I am the actual travel agent or travel provider and not a third party affiliate. The travel/accommodations in this auction will be booked directly through me and not an outside agency. I also verify that, other than the government taxes and related government fees stated within the listing description itself, there will be absolutely no additional fees, charges or after auction purchases associated with booking the travel within this listing."